We are pleased to announce that Senator Roger Wicker has been selected as the 2013 Distinguished Citizen. Roger F. Wicker has represented Mississippi in the United States Senate since December 2007. During his time in the Senate, Wicker has championed pro-growth policies to create jobs and has worked to reduce spending, limit federal overreach, and maintain a strong national defense. Prior to his service in the Senate, Wicker was elected seven times, beginning in 1994, to represent Mississippi's First Congressional District in the House of Representatives. Before being elected to Congress, he served in the state Senate on behalf of Lee and Pontotoc counties. Senator Wicker served on active duty in the U.S. Air Force and then joined the Air Force Reserve. He retired from the Reserve in 2004 with the rank of lieutenant colonel.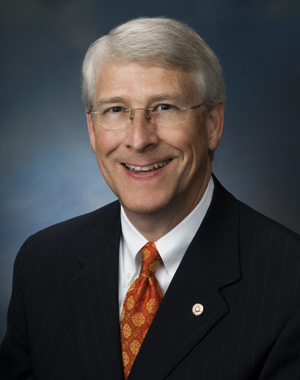 A native of Pontotoc, Mississippi, the Senator is the son of former Circuit Judge Fred Wicker and the late Mrs. Wordna Wicker. He was educated in the public schools of Pontotoc and received his B.A. and law degrees from the University of Mississippi. Wicker is a member of the First Baptist Church Tupelo, where he sings in the choir. Senator Wicker is married to the former Gayle Long of Tupelo. They have three children: Margaret and son-in-law Manning McPhillips; Caroline and son-in-law Kirk Sims; and McDaniel Wicker (Eagle Scout Troop 12); and two grandchildren: Caroline and Henry McPhillips.
Senator Wicker will be honored on February 19th, 2013, at the annual Boy Scout Distinguished Citizen Dinner to be held in Tupelo at the BancorpSouth Conference Center at 6:30 PM. The dinner is being chaired by Mitch Waycaster of Renasant Bank. Former recipients of this honor include author and producer Sam Haskell, BancorpSouth President Aubrey Patterson, acclaimed author John Grisham, football great Archie Manning, former governors William Winter and Haley Barbour, Senators Thad Cochran and Trent Lott, former Yocona Area Council Presidents Felix Black, Henry Brevard, Rob Leake, Bud McCarty, Jack Reed Sr. and J.C. Whitehead, "The Scoutmaster," and most recently the "Voice of the Bulldogs" Jack Cristil. The Distinguished Citizen Dinner is by invitation to Friends of Scouting donors with gifts of $250 or more, for your invitation or more information contact the Scout Service Center at 662-842-2871.